The Bigfoot Trail is being proposed as a National Recreation Trail!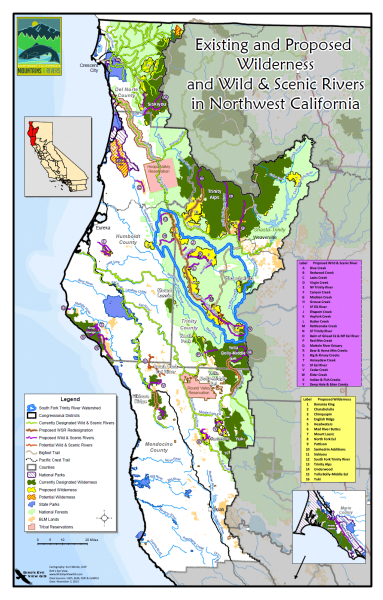 The Mountains and Rivers proposal will benefit northern California's landscapes, watersheds and communities. We will ask Congressman Jared Huffman to champion this plan with legislation in Congress.
This proposal includes support for:
Protecting key healthy forests and streams that sustain our wild fish populations
Restoring damaged forests and watersheds
Supporting community wildfire protection and ecologically responsible fire management strategies
Improving water quality and quantity throughout the region
Promoting our local recreation economy
Address restoration of damaged watershed and fisheries, with a significant focus on the South Fork Trinity River and Mad River Ranger District through a locally directed stewardship area
Enhance recreational opportunities in both specific areas and through a separate recreation fund
Protect communities from catastrophic fire through more coordinated shared agency fire management of Wilderness Areas
Create a funding vessel to provide support for remediation of trespass activity (including marijuana grows) on public lands
Designate new Wilderness Areas
Designate new Wild & Scenic Rivers
Address specific public lands needs for some of the tribes in the region
What can you do?
Congressman Huffman has expressed his interest in moving this proposal forward and we are asking supporters to send him letters of encouragement to keep the momentum going.
CLICK HERE to learn more about how to write a letter of support!